Have you moved your body yet today?
Wherever you live, whatever things are like around you, make sure you keep moving, even if it's simply indoors/at home.
Make sure to move because...
Move because it makes you feel better.
⠀
Move because it helps restore your energy.
⠀
Move because it lifts your spirits.
⠀
Move because it boosts your mood.
⠀
Fitness is as much about the effect it has on our brains as it is about the effect it has on our bodies.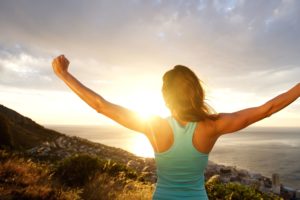 ⠀
So I encourage you to invest in a little simple self-care today with a 5-minute movement session like this one (or 10 minutes if you want to do more!).
⠀
1 Turkish Get Up**, Left side
20 Russian Swings*
1 Turkish Get Up, Right side
20 Russian Swings
⠀
*If Swings aren't in your toolkit yet, substitute goblet or bodyweight squats.
**And if TGUs are new to you, go through the steps unweighted with your hand squeezed in a fist.
⠀
The magic is in the breath and the flow, so do your best to keep your mind 'in the moment' and create a regular breathing pattern to get maximum payoff from your movement session.
⠀
And did you notice I didn't say 'workout'?
Moving doesn't always have to be about working out, particularly in times of higher levels of stress—sometimes it's just to feel a bit better, not burn calories or 'crush it.'
Keep taking good care of you--and making regular movement a part of that self-care <3
With you all the way,
Kate
PS:  If you're looking for some other movement sessions or workouts you can do just about anywhere, here's a list of the ones I shared last week:
March 16-22:
Single Kettlebell Snatch/Squat/Lunge/Swing complex
Step Up to Better Buns (bodyweight)
Resistance Band Back and Posture Circuit:  Perfect for breaks from sitting during the day
Double Kettlebell "Around the Neighborhood" Workout
3-Move Glute Training Circuit:  bodyweight, dumbbell or kettlbell options
One 'Bell Energy Booster:  dumbbell and kettlebell options
4-Move Core Strengthener:  weighted and bodyweight options
**Make sure to keep taking good care of YOU, inside and out!**
And to get these workouts delivered to you directly each week, sign up here:
You'll get more tips and inspiration for staying strong and healthy, inside and out, through this challenging chapter in our lives.
We're in it together!