5 Things that are keeping ME motivated this summer!
Hey there!
Is it just me, or was spring especially tough this year??
It's been a rough one, a very trying phase in life, and not just because of COVID.
⠀
I've been solo parenting since early April, my family lost my uncle Pat suddenly, and a there've been a whole bunch of other life-, kid-, and covid-related challenges in the mix, too.
⠀
Like A LOT…which I'm sure you can relate to.
⠀
I was still getting my workouts in, but I wasn't LOVING them (with #strongersaturday classes being the exception).
⠀
I was completely missing out on the feeling of JOY.
⠀
After several weeks of this I decided I'd had enough of just getting by.
I allowed myself to stop, take a step back and think about what WOULD give me more joy, to pay attention to the thoughts and actions that made me feel better and even get a little excited sometimes.
Then I gave myself permission to go back to training in a way that gave me joy, even if it was off-plan and off the beaten path.
I gave myself permission to spend a little more money on coaching and self-care (aka:  INVESTING in myself), so that at the end of the summer I'd look back and be satisfied with how I spent my time and energy.
And after spending some quiet time thinking--a luxury sometimes, right?!?--I identified the 5 things that are alreadyhelping me find more joy, stay consistent with my workouts and accomplish meaningful things despite life challenges this summer.
I'm sharing these with you because you might have recently been feeling a lack of joy or motivation, too, and one or more of these things might hit home and motivate you, too! <3
5 things that are helping ME stay consistent and accountable this summer (that might really resonate with you, too!): 
Hiring a coach
For 3 months, starting in Feb, I tried using an app to help me get better at (CrossFit) gymnastic skills, but it was too general and didn't meet MY needs.
Sometimes it was too hard, sometimes too easy, or just not right for my goals and relative strengths/weaknesses.  Instead of continuing to struggle alone, I reached out to CrossFit Advantage (where I attended The Gymnastics Course last fall) for some 1:1 training and Bethany agreed to work with me.
I now have appointments with her & personalized homework specific to my goals—which keeps me on track because I need to get my homework done to make the progress I want AND not let her down in the process.
Bethany's going the extra mile in writing a personalized program for me, the least I can do is make it worth her while!
Having some lofty but enticing performance goals.
"If you don't know where you're going, you'll just end up somewhere." ~ Yogi Berra
Sometimes just showing up and getting in some kind of workout is all we're capable of (like March-June for me!)
But 'just showing up' isn't a great long-term or motivational goal—our actions need meaning and purpose; we need a target to aim for.
I've wanted to be able to kick up to handstand, to do ring muscle ups proficiently and to just plain be able to do bar muscle ups for years…but never invested the focused time to do it long enough to get those results.
Committing to earning these skills by the end of the year has given my training focus and meaning, knowing if I don't do the daily/weekly work then I won't hit those goals!
And I CARE about hitting those goals so it's keeping me consistent when it'd be easier to just skip that training session….see #1 for how I'm turning goals into actions!
(You can see some of my practice here: Handstand Practice)
Doing things I really love…and that means kettlebells. And gymnastic skills. And lifting really heavy sh*t (Hello, Stronger Saturdays & stronglady training)! And sprints/stair climbs.
This means I'm choosing training programs this summer that include lots of Kb training & heavy lifting and including gymnastic skills work, too.
Oh yeah, it means getting outdoors for those sprint cardio sessions, too (I've had enough time on the rower this past year!).
Doing things I REALLY enjoy keeps me showing up to do those workouts even when I'm tired or uninspired (it happens to ALLLLL of us).
Like so many of us, If I don't like the training, or see the importance of it in my life, I'm wayyyy more likely to put it off.
Having more and more silver hair.
I'm going to be turning 47 next month, and all the silver hairs I've earned serve as a reminder that I don't have countless tomorrow's to wait to hit my goals.
In other words, I fully recognize I'm slowly running out of time, and I never want to look back and think I wasted time or missed an opportunity to do something meaningful when I had the chance.
Translation: no more procrastinating or saying 'there'll be a better time later,' I'm making sure to take action NOW.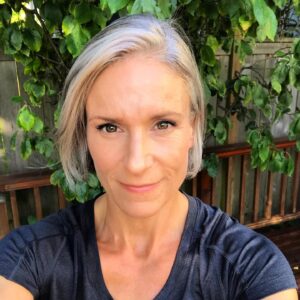 Plus, if you have silver hair, you might as well have some awesome guns
Going to group classes
Even though I'm both an introvert and pretty self-motivated, I love being part of a community of hard-working people who enjoy fitness, too.
Plus, I'll push myself WAY harder during a conditioning workout with other people than I ever will on my own! 
Going to group classes 2-3 times week gives me the social connection, and reason to push harder (and get better results) that make me WANT to keep showing up.
So, back to my initial question:  Was spring especially tough this year?  
And how are you doing? 
Thriving, surviving or just getting by?
I'd love to hear both how you're doing (really!) and what you want more of in YOUR life this summer.
Take care and make sure to comment! 🙂
Kate
P.S. In case you wanted to try out  kettlebell/"Strongnastics" workouts, here are a couple for you!
Lemme know what you think of these!